From shredded slippers to costly vet bills: Cushelle's survey into the surprises and trials of owning a pet
1 person found this helpful

Does your pet cause havoc in your home? If so, you're not alone! As a nation of pet lovers, we're prepared to go to any lengths to ensure the happiness and welfare of our furry friends (even if they leave our most prized possessions shredded to oblivion!).
But how much are we willing to bend over backwards for our naughty pets? And how prepared are we for the highs (and lows!) of owning a furry friend? To find out, here at Cushelle we've carried out a survey of 2,000 UK pet owners to celebrate our Channel 5 Animal Tales partnership.
We've asked the public what the challenges are when it comes to training mischievous pets, and with the cost of living rising, we've also put a figure against how much people spent in their first year of having a pet.
We've also taken a look at photos of your own furry family members, to see the mischief and mayhem that goes on in your own homes!
Have we piqued your interest yet? Read on as we let the cat out of the bag on the findings from our pet survey…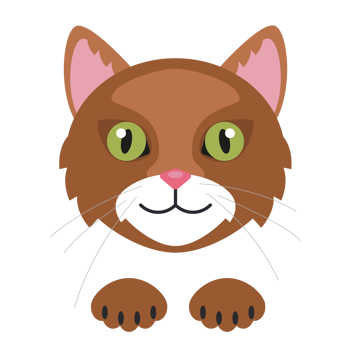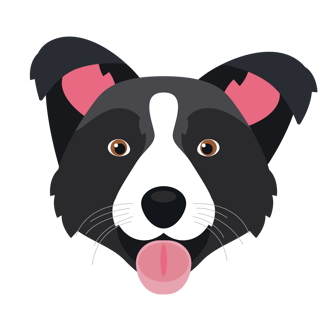 Training teething problems: 1 in 5 owners find it difficult to train their pets
Picture this: you've just come home from a long day of work, ready to unwind, but to your dismay your house looks like it has been hit by a tornado. Sound familiar? Our furry little friends have a lot to answer for! As much as we love them, they can test our patience in a huge way.
Our survey reveals nearly a quarter (24%) of pets in the UK have shredded their owners' slippers – with this happening more to men than women!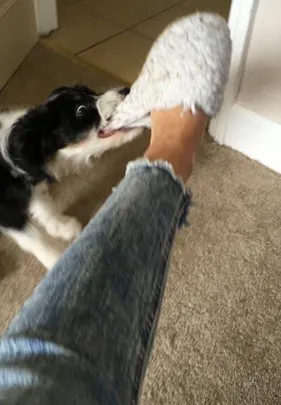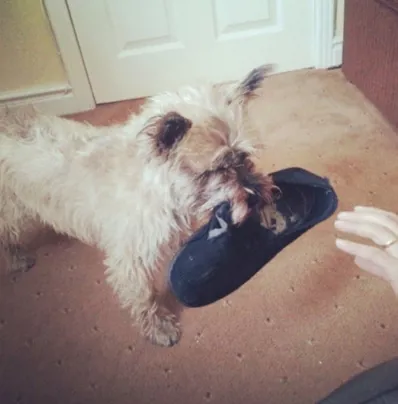 "The pawfect chew toy!" (Molly in Dorset – left, Carole Dillon's dog in Nottingham – right)
And it's not just items of clothing that bear the brunt of pet mischief; flooring can also take a beating. There's nothing worse than coming downstairs and finding a puddle (or something worse…) to greet you. And little surprises may be more commonplace than you'd expect, with 16% of us struggling to toilet train our pets and a further 15% struggling to get puss to use the litter tray.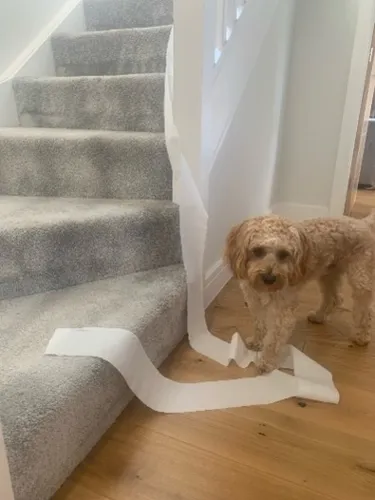 "Need a hand with the cleaning?" (Reggie, Surrey)
It's a similar story with furniture too. Over 32% of dog owners have come home to find their lovely furniture ruined - something even puppy dog eyes can't fix! And it would appear our feline friends are just as cheeky, with 3 in 10 of us finding it hard to keep our cats off the tabletops.
(If you're looking for inspiration on how to distract your cat from causing meow-mayhem, why not check out our guide on making DIY cat toys from rolls of Cushelle toilet paper?)
Pricey paws: half of us found raising a pet more expensive than anticipated
Getting a pet is exciting! What's not to love about an adorable, fluffy bundle of joy that provides hours of everyday fun? We can't think of anything better.
But as cute and cuddly as they may be, pets are a big commitment and surprisingly costly. Whether it's providing a loving home, giving them plenty of exercise, a healthy diet and much more, there are a few unexpected costs that can add up.
So, it's no surprise that 1 in 5 of us struggled financially when first bringing our fluffy friends home – with the younger generations hit the hardest. In fact, 44% of 18-24 year olds admit to struggling financially during the initial stages of having a pet, compared to just 13% of 45-54 year olds.
Vet bills, pet insurance and specialist food were the top things owners hadn't anticipated paying for. In fact, 51% of people had no idea that they would have to cover vet bills and 23% found pet insurance to be a lot more expensive than they'd originally thought.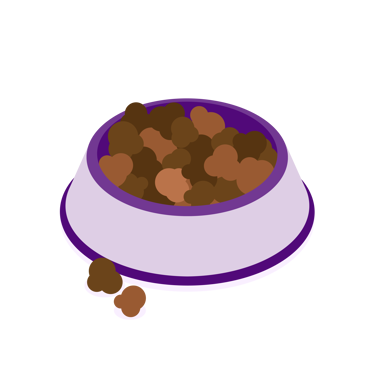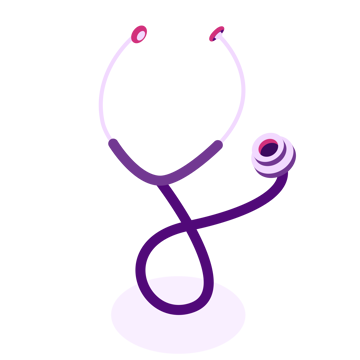 All things considered, the average spend on a cat or dog within its first year added up to more than £500, with 11% of us even spending more than £1000 on our furry companion during the same period. Positively barking mad!
And with the cost of living rising, these expenses could see an increase. As such, many of us are looking for simple and easy ways to cut down on household costs – and there are a few nifty product swaps that can help with this. For example, our soft, strong and absorbent Quilted toilet paper range is an affordable household essential – its 3 ply paper means that a little goes a long way when it comes to usage, without ever compromising on softness and comfort.
Woofing from home: over a quarter (27%) found lockdown life difficult with a pet
For many of us, our pets were a saving grace during the lockdown periods, keeping us company and making long days spent sitting in front of a laptop that little bit more entertaining.
So, it's no surprise that the number of pet owners rose during the lockdown period. 19% of our survey participants bought or adopted a puppy or kitten during lockdown, with nearly a third (32%) of Londoners surveyed saying they got themselves a lockdown pet.
But with pooches and pusses constantly vying for our attention as we went about our 9-5s, working from home with our furry companions certainly came with its challenges! In fact, 27% of us found working from home whilst looking after a pet difficult.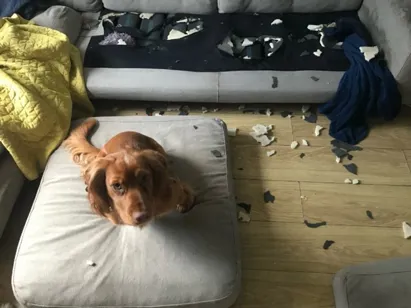 "It wasn't me" (Shere Khan, Neath)
Almost one in ten of us found it tough being cooped up with our pet all day, and a further 5% struggled with not being able to socialise their furry friends.
Yet despite the unexpected costs, shredded slippers, mucky countertops and need for attention, our survey revealed 35% of pet owners wouldn't change anything about their pets for the world. The love we have for our favourite moggies and pooches is unparalleled, even if they do send us barking mad sometimes!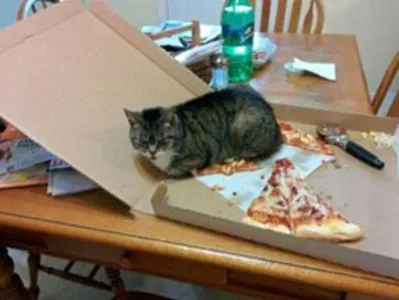 "Saved you a slice!" (Captain, Manchester)
If you're weighing up whether to buy a pet or have recently delved into pet ownership, why not take a look at our top tips guide below? Simply click the link to download a PDF with all the help you'll need, and visit our other articles for more inspiration on a whole host of different subjects, including how to clean cat and dog ears and how to make hamster and gerbil toys by repurposing the roll from Cushelle toilet paper.
---
Did you find this article helpful?
Thanks for your feedback!
or

Download & Go Guides & Tools
Download top tips from an expert on raising your pet!