The ultimate family moving checklist


Featured:
Cushelle Original
At Cushelle we love irresistibly cushiony soft toilet tissue, and Kenny loves it too!
Moving into a new home is really exciting, but there's a lot to plan, particularly if you've got kids. No need to worry, though; we've put together the ultimate family moving home checklist to help make moving as stress-free as possible. Getting your kids involved in the process is a big part of limiting the stress, along with planning early and making a moving checklist that's easy to follow, so why not download our illustrated checklist to help you on your way?
Create your moving house checklist early
Write your moving checklist well in advance and you'll be able to add as you go – the last thing anyone wants is the stress of not remembering something as the big day approaches. Dividing your moving home checklist into sections will help make it manageable and help you focus. Here are a few category areas to consider:
Packing. When, how and who's going to help?
Admin. What are your responsibilities as a homeowner (bills etc.)?
Cleaning. What jobs need doing?
Timeframe. When do you want tasks completed by?
How to get the kids involved with your moving checklist
Moving home is exciting but it's also daunting, and that's no different for kids. The more you involve them in the process the smoother things will go, and the more excited they'll be. When you talk about the move always be enthusiastic; talk about their new room, the local park and fun things you can do together as a family.
Also, get them involved in as much of the moving checklist tasks as possible. They might not be much help when it comes to the admin tasks, but there's no reason they can't help with the cleaning and packing. They'll enjoy wrapping objects, organising toys, labelling boxes and folding.
Use a strong and soft toilet, like Cushelle, to wrap small objects. It'll help protect them from knocks and dust.
Make packing a priority in your home moving checklist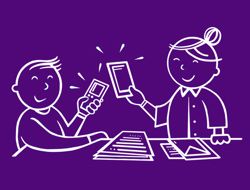 You can't start packing too early! Anything that's not essential day-to-day should go into boxes well in advance of the move – the more you can get done early the less stressful the move is going to be in the final few days. This includes toys, but don't worry, the kids can keep themselves entertained with some crafting sessions in the weekends running up to the move.
Moving home checklist of contacts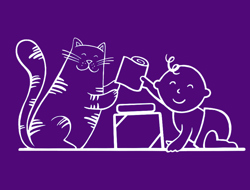 There'll be a number of admin tasks for you to complete as part of your checklist for moving house, so make a list of whom you need to contact and tick them off as you go. It's going to be slightly different for everyone, but here are a few examples:
Utility companies
TV and internet suppliers
Banks, credit card and insurance companies
Schools, clubs, gyms etc.
Moving out cleaning tasks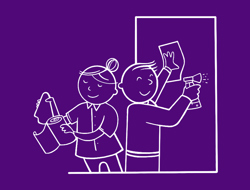 You'd like to think your new home will be sparkling when you arrive, so it's good to do the same for the new owners of your house (and it might save you a cleaning fee if you're renting). This moving out cleaning checklist highlights the main areas, but feel free to add to it:
Dust
Vacuum
Polish windows
Clean hard floors
Deep clean kitchens, bathrooms and toilet
Clean out fitted cupboards, cabinets and wardrobes
Keep a supply of extra strong and absorbent kitchen towel to hand. From wiping down surfaces to swiping away dust in those hard-to-reach corners, it'll be your favourite companion for last-minute jobs.
Checklist for moving house – the big day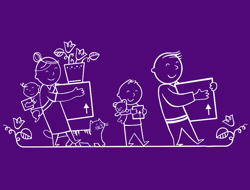 Finally, make a separate home moving checklist to tick off on the day. This might include:
Labelling all boxes
Checking light bulbs
Giving every room the once over to make sure it's clean – the kids can be in charge of this part
Removing toilet roll and anything else you've used right up until the last minute.
Putting together a checklist for moving house is a vital part of making the move go smoothly, as is making sure that the kids feel involved. As long as you're well organised and do as much as you can in advance of moving day, it doesn't have to be stressful. Start putting your home moving checklist together when you're ready and enjoy your new home!



---
Did you find this article helpful?
Thanks for your feedback!
or